Clowry Gravestones MYS04 Kilmaglush
Katherine, James, Martin, John Clowry – Myshall RC Graveyard, County Carlow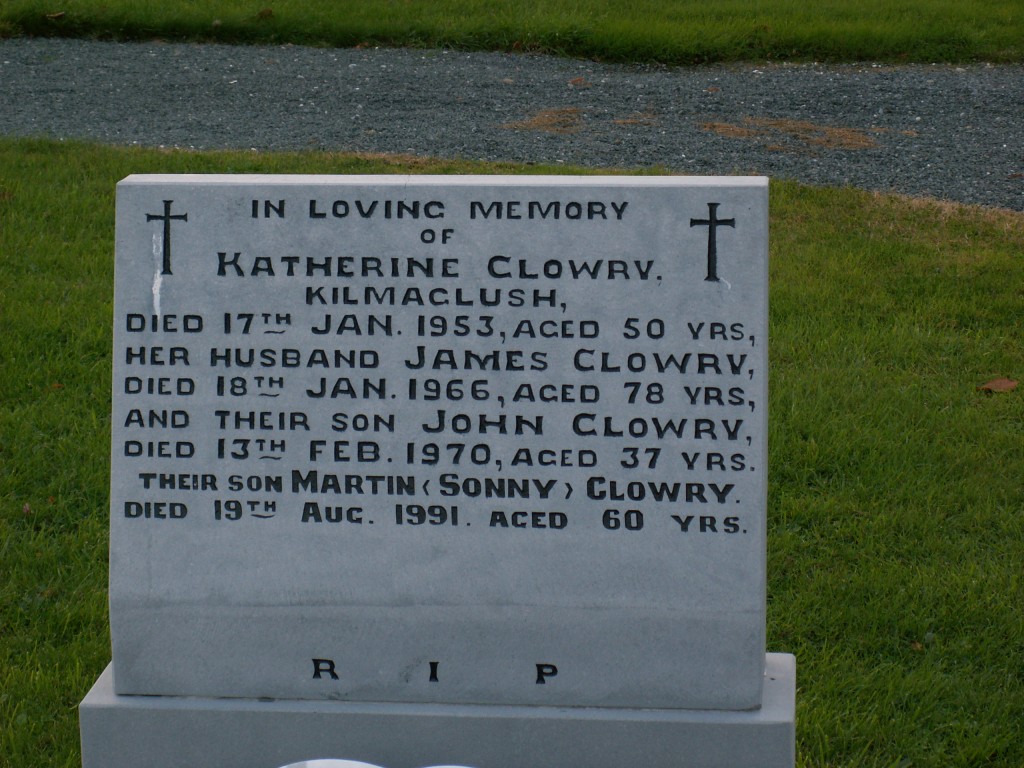 In Loving Memory
of
KATHERINE CLOWRY
Kilmaglush
Died 17th January 1953, Aged 50 yrs
her Husband JAMES CLOWRY
Died 18th Jan 1966, Aged 78 yrs
and their son JOHN CLOWRY
Died Feb 1970, Aged 37 yrs
Their son Martin (Sonny) Clowry
Died 19th Aug 1991 aged 60 yrs
RIP
Source: http://nolanfamilies.org/gallery/displayimage.php?album=29&pid=399#top_display_media
CLOWRYS  BY MARRIAGE
Lil Clowry(nee Shaughnessy's) sister

The death occurred at her home on Wednesday April 1st of Mrs. Anne (Nan) Atkinson, Gurteen, Templeshambo (nee Shaughnessy, Myshall, Co. Carlow) aged 90 years.
Her remains were removed to the Church of St. Mary Magdalene, Kilmyshall, on Thursday evening for Requiem Mass on Friday morning celebrated by V. Rev. Wm. Howell P.P., Ballygarrett, assisted by Rev. G. Barros, I.V.E., Kilmyshall, before interment in the family plot in Ryland Cemetery.
Other clergy in attendance included V.Rev. A.J. Jones P.P., Bunclody and Rev. Harold Bumann I.V.E..
She is survived by her sons, Chris and John; daughters, Anne, Mary and Ber; grandchildren, William, Chris, Clare, Leanne, John, Ann, Martin and Paul; sisters, Lil (Clowry) and Mol (Doyle); sisters-in-law, Bessie (Murphy), Cromogue; Cathy (Ryan), Craanrue and Bernie (Deane), Bunclody; Bridget, Liz and Philip; nieces, nephews, relatives and friends.
Her husband, Willie, granddaughter, Leona, brother, John and sister, Cathy (Hogan) predeceased her.
In her younger days Nan was a noted Camogie player with the Myshall Blues and in the 1940s she was a member of the Red Cross.
Related Profile:
http://www.geni.com/people/Elizabeth-Clowry/6000000009986436300
Source:
http://www.enniscorthyecho.ie/news/mhkfsncwgb/
Annie Clowry (nee Nolan)
In loving memory of
MICHAEL NOLAN, Boghouse, Fenagh
Died 1891 Aged 50 Yrs
His wife MARY
Died 1911 Aged 75 Yrs
Their son WILLIE Died 1914 Aged 40 Yrs
WILLIAM NOLAN Ballyknocken Died 1936
Mrs. ANNIE CLOWRY Boghouse
Died Nov 1956 Aged 65 YrsErected by MARY NOLAN
65 Pairc, Mhuinebheag Bagenalstown