Clowry Gravestones WEX01
Nancy Clowry – Wexford
Memorials of the dead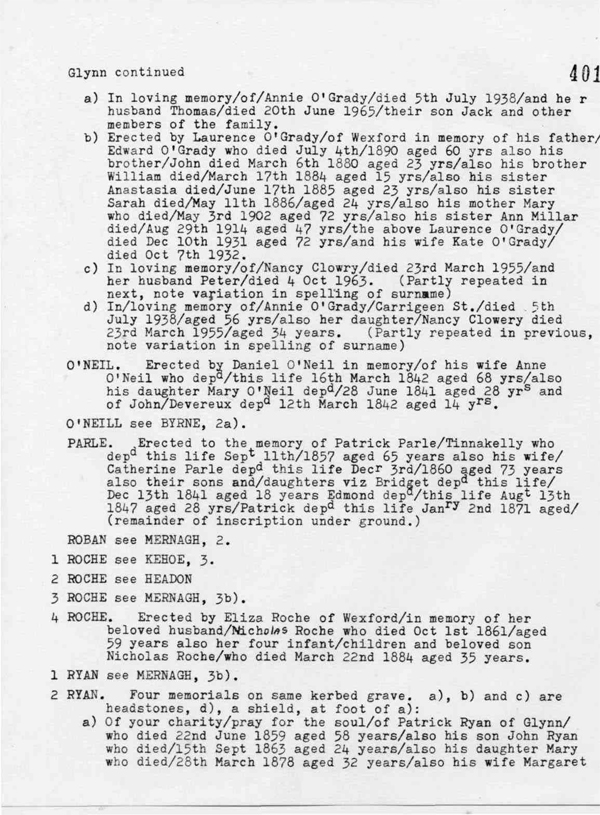 In loving memory of Nancy Clowry died 23rd March 1955 and her husband Peter died 4 Oct 1963. (Partly repeated in next note variation in spelling of surname).
In loving memory of Annie O'Grady/Carrigeen St. died 5th July 1938/aged 56years also her daughter.Nancy Clowery died 23rd March 1955 aged 34 years.
Source: N/A. Please let me know if you provided this.

James Clowry & Murtha Clowrey – War Memorial 1914 -1918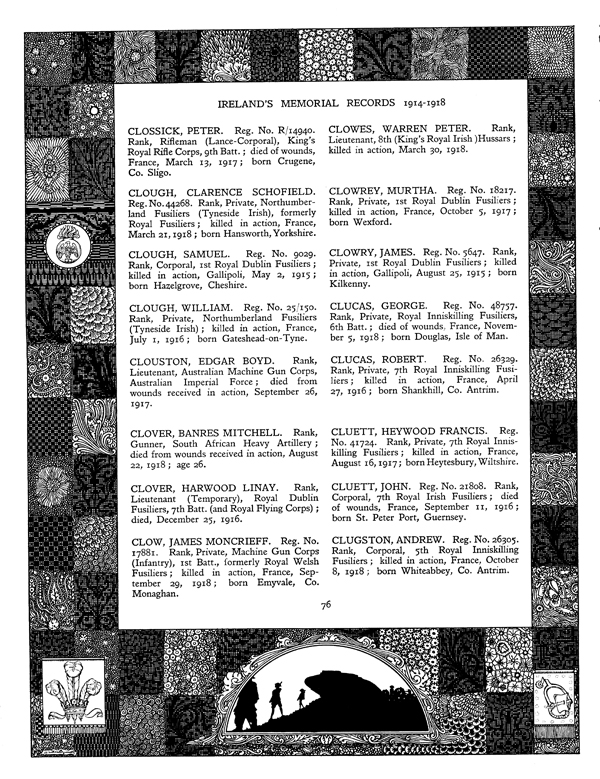 Clowrey, Murtha. Reg Ni 18217. Rank, Private, 1st Royal Fusiliers; killed in action, France, October 5, 1917 born Wexford.
Clowry James. Reg No 5647. Rank Private 1st Royal Dublin Fusiliers; killed in Action, Gallipoli, August 25, 1915; born Kilkenny.
The Helles Memorial Gallipoli Turkey
Contains the names of 474 Dublin Fusiliers who died in the Gallipoli campaign.
Clowry    James
Reg. Number: 5647
Rank: Private
Regiment: 1st Bn. Royal Dublin Fusiliers
Died: 25/08/1915 Age: 29
Place of Birth: Kilkenny, Lived in Kilkenny enlisted in Carlow.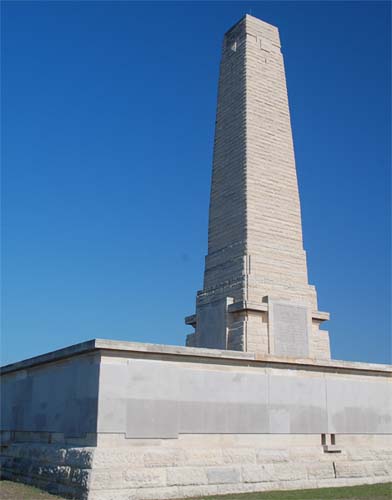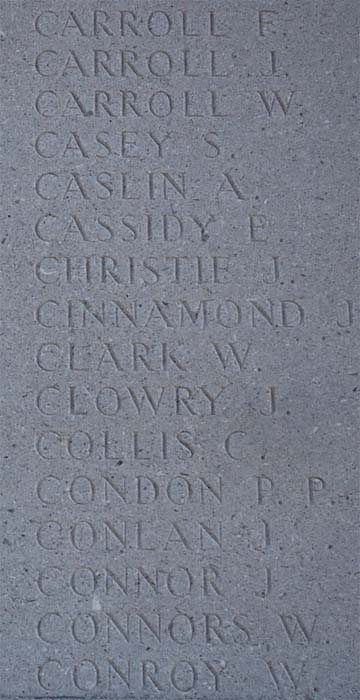 Related Profile:
Source: http://irishmedals.org/gpage58.html
SCOTLAND
Christine Ann Clowry, John Clowry, Elizabeth Clowry
Cemetery name: St Fillans's Parish Church
Cemetery location:  Crieff, Perthshire, Scotland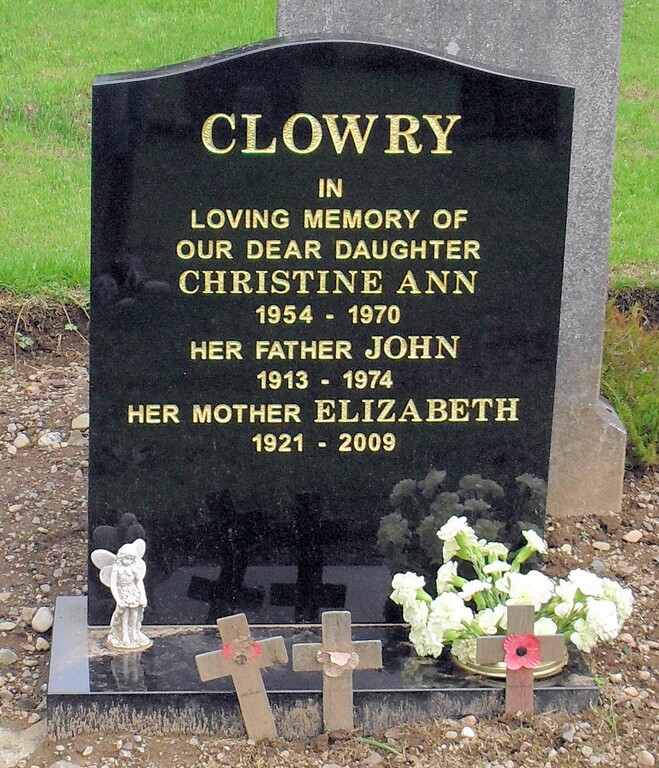 Full name:Christine Ann Clowry
Age:16
Birth Year:1954
Burial year:1970
Full name: John Clowry
Age: 61
Birth Year: 1913
Burial year: 1974
father of Christine Ann Clowry
Full name: Elizabeth Clowry
Age:    88
Birth Year:1921
Burial year:2009
mother of Christine Ann Clowry
Source: http://www.gravestonephotos.com/public/gravedetails.php?available=yes&fullname=Elizabeth%20Clowry&grave=80920
Matthew Clowry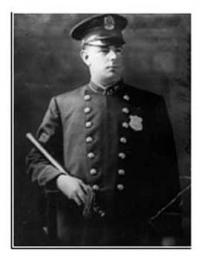 Birth:     Oct. 11, 1881
Death:     Mar. 31, 1934
Philadelphia
Philadelphia County
Pennsylvania, USA
Policeman Matthew Clowry
Philadelphia Police Department
Pennsylvania
End of Watch: Saturday, March 31, 1934
Biographical Info
Age: 52
Tour of Duty: 22 years
Badge Number: 710
Unit of assignment: Belgade and Clearfield station
Incident Details
Cause of Death: Gunfire
Date of Incident: Monday, November 21, 1932
Weapon Used: Gun; Unknown type
Suspect Info: David Almeida (acquitted; later murdered another police officer)
Policeman Clowry died of a wound he received on November 21st, 1932, when he was shot in the head by bandits he caught robbing a building and loan at Richmond Street and Indiana Avenue.
Patrolman Matthew Clowry was detailed to guard a meeting of the Commonwealth Building and Loan Association on the evening of November 21, 1932.
Shortly before nine o'clock, three masked and armed men burst through the doorway and shouted "Hands up!" Looking straight at the barrels of two revolvers and a sawed off shot gun, only ten feet away, Patrolman Clowry disregarded the call and reached for his own revolver. At the same instant two of the bandits shot point blank at his head and both a revolver bullet and the charge from the gun struck the front of his cap and inflicted a bad scalp wound above his right eye.
Stunned by the shot, the patrolman fell, and although semi-conscious while another bandit stood over him, he tried to pull his gun on the gang as they ran from the building with the stolen cash. He succeeded in shooting once at the five bandits as they left in an automobile and then went to a Police Signal Box to report the hold-up, at which point he collapsed from wounds and loss of blood. The suspects were later captured because of a description given by Policeman Clowry.
David Almeida and four others were caught in the holdup. The others pleaded guilty and went to jail, but Almeida, accused of driving the gang's car stood trial and was acquitted. The court thought so little of the verdict that it placed Almeida under $5,000 bail to keep the peace. Almeida went on to commit other bank and commercial robberies and was imprisoned for life after the murder of Philadelphia Police Officer Cecil Ingling in 1947.
Policeman Clowry had served with the Philadelphia Police Department for 22 years. He was survived by his wife and four children.
Sources:
1. Philadelphia Bulletin
Burial:
Unknown
Created by: Researcher
Record added: May 10, 2009
Find A Grave Memorial# 36938807
Source: http://www.findagrave.com/cgi-bin/fg.cgi?page=dfl&GRid=36938807
Kathleen Clowery -Wexford 1925
REGISTER OF BURIALS – Dec/Jan 1925/6 St Ibar's Crosstown cemetery Wexford town
No in register: 58
Date of Burial: Dec 31st
Name: Kathleen Clowery
Date of death: Dec 29th
Age: 2 mts
Occupation:
Last Place of Residence: Barrack Street
Condition: Child of Clowery
Grave Location: Sec H – No 106
Person Managing interment: John Clowery
Related Profile:
http://www.geni.com/people/Kathleen-Clowry/6000000009837215614
http://www.geni.com/people/John-Clowry/6000000009837555506
Source:
Note from author or inscription details
http://www.rootschat.com/forum/index.php/topic,457094.msg3242632.html 

Teresa Clowery -Wexford 1925

REGISTER OF BURIALS – Feb 1926 (8 burials) St Ibar's Crosstown cemetery Wexford town
No in register: 76
Date of Burial: Feb 17th
Name: Teresa Clowery
Date of death:  15th Feb
Age: 2 mths
Occupation: Child of
Last Place of Residence: Barrack St
Condition: Child of
Grave Location: Sec: H – No: 106
Person Managing interment: John Clowery
Note from author of inscription details
(There are 5 individuals in this grave. The first to die was John Dalton in 1916, my Great Grandfather, followed by his Daughter Katherine Clowery who died giving birth to twins in Dec 1925. The twins died shortly afterwards and their father John Clowery died in 1968. Only Katherine & John Clowery are named on the headstone)
Margaret Mary Clowery – Wexford 1926
REGISTER OF BURIALS – May/June 1926 (8 burials) St Ibar's Crosstown cemetery Wexford town
No in register: 114
Date of Burial: May 22
Name: Margaret Mary Clowery
Date of death: May 20th
Age: 5
Occupation:
Last Place of Residence: Convent of Mercy
Condition: Child of
Grave Location:  Sec: L?  No: 100
Person Managing interment: John Clowery

Note from author of inscription details
Margaret is buried in the communal convent plot. Photo of the headstone attached.