Clowry Family History Name
This articles provides information on the Clowry family name and although I am not certain that this is 100% correct. It was originally created by the Historical Research Center.
The Clowry surname is and anglicised rendering of the Gaelic surname Mac Labhradha which is possible derived from the Gaelic term "labhraidh" which means literally, "spokesman". This name would have been used to denote one who was appointed by the community to peak on their behalf. This name has been translated as Mac Clowry and Mac Clory. The clan chiefly held lands in County Down and the were members of the Hy Nial tribe, which was founded by the celebrated Irish hero, Nial Noy Giollach, King of Ireland in A.D 379, better known, perhaps as Nial of the Nine hostages.
The Clowrys were among those ancient and noble families called Milesian claiming as they did, descends from Milesius, King of Spain, who is held to have invaded Ireland in ancient times. Reference to this name is written in records as early as 1447 in parish records in County Down. Later, a branch of this family was established in the Province of Leinster and it is this region that bearers of the name Clowry are Chiefly found today.
Blazon of Arms: Argent two lions rampant combatant gules supporting a dexter hand couped at the wrist of the last, in chief three estoiles of the second, in base waves of the sea, therein a salmon naiant all proper.
View http://www.thetreemaker.com/family-coat-c/clowry/ireland.html
Translation: The lion signifies Majesty, Courage and Strength. The red hand is the symbol of the province of Ulster and the salmon in Irish myth is associated with Wisdom and Knowledge. The star denotes Honour and Achievement in the service of the state.
Crest: An Arm in armour embowed grasping a sword all proper.
View http://www.thetreemaker.com/family-coat-c/clowry/ireland.html
Motto: Pro fide rege et patria pgna.
Translation: I fight for the faith, king and country.
Origin: Ireland.
Historical Research Center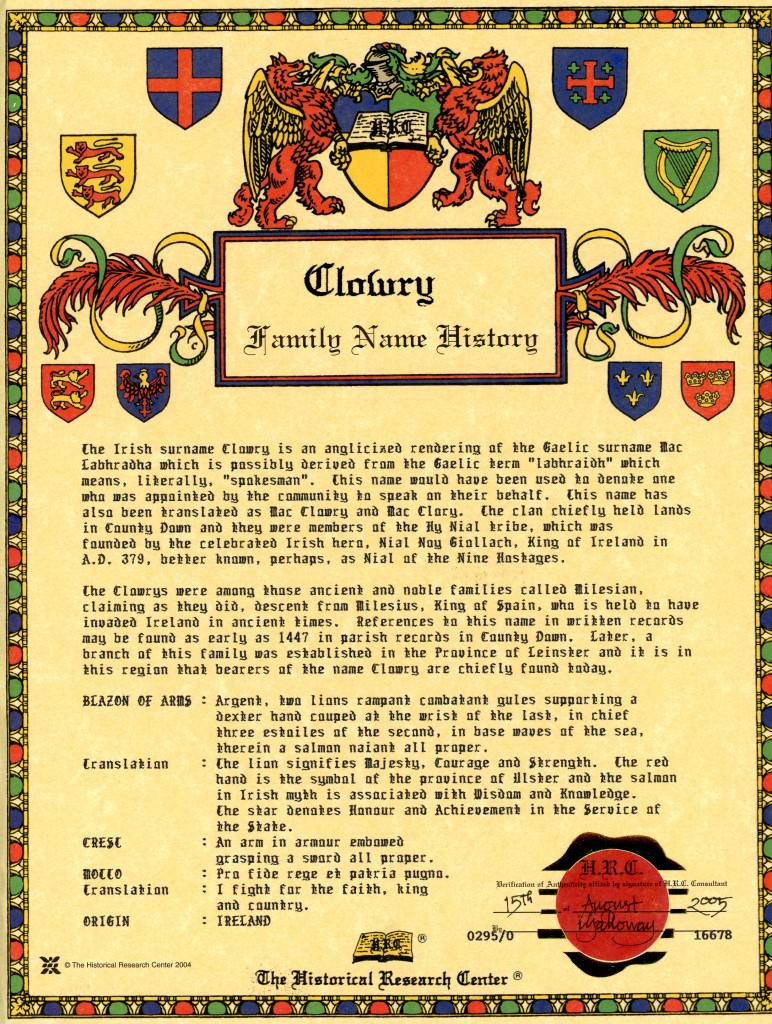 Other information online regarding Clowry Surname
Christian Name and Surnames in Irish
Clowry – Mac Labhraí in Irish
Source: http://www.irishidentity.com/names/c.htm

Irish Names and Surnames: By Patrick Woulfe
Clowry = Mac Labrada; M'Lawry, MacLavery, MacClory, Clowry; 'son of Labraid' (spokesman advocate); a rare Ulster surname.
Source: http://books.google.ie/books?id=GBmV706lfVYC&lpg=PA385&dq=Clowry%20Irish%20Names%20and%20Surnames%20%20By%20Partick%20Woulfe&pg=PA385#v=onepage&q&f=false
Gary Clowry suggests..
Clowry… in Irish it is MacLabhraidh and it means speaker, spokesman or advocate. Decending from Eochaidh Labhraidh MacFhogartaigh, Lord of Fermanagh. I think is was Cromwell that asked us to leave, in a friendly sort of way… as you can imagine.
Source: http://www.boards.ie/vbulletin/showthread.php?page=2&t=77982