Clowry Dublin Graves and Gravestones
In my research to date, graves have proven to be a useful tool for finding information about Clowrys and their family members. I hope to try and document all of the findings that I have encountered thus far, associated with Irish Clowry graves, gravestones and memorials. I have by no means researched this area extensively and welcome any comments on this subject. This post will concentrate on Clowry related graves in Dublin Ireland.
Glasnevin Cemetery
One of the first places that I visited when researching my own family tree was a local graveyard called Glasnevin Cemetery, Dublin, Ireland. The cemetery boasts a brand new interpretive center that allows users to search for relatives that may be in the graveyard. They also have a website http://www.glasnevintrust.ie that allows you to search on-line. There is a pretty unreasonable fee to be paid to search on-line (you pay per record). For example if there is 8 people a grave (that's 8 euros).  To quote the website:
Either search & select records first and then purchase credits as per record choice (1 Credit = €1):

3 Credits for Standard Burial/Cremation Search
8 Credits for Extended Complete Grave Search*

+2 Credits for where available Book Extracts
My advice if possible, is to visit the center yourself and their very helpful staff can search for you for free.
My relatives and I were astonished to find a number of ancestors that we were not aware of buried in a family plot. I have made this Google map below with all of the Clowry grave information that I could find in Glasnevin. You can click on the blue marker below to read more information about the points of interest.

View Clowry Glasnevin Cemetery in a larger map
Gravestone of John & Pauline Clowry
This grave marks the resting place of my grandaunt and granduncle John and Pauline Clowry.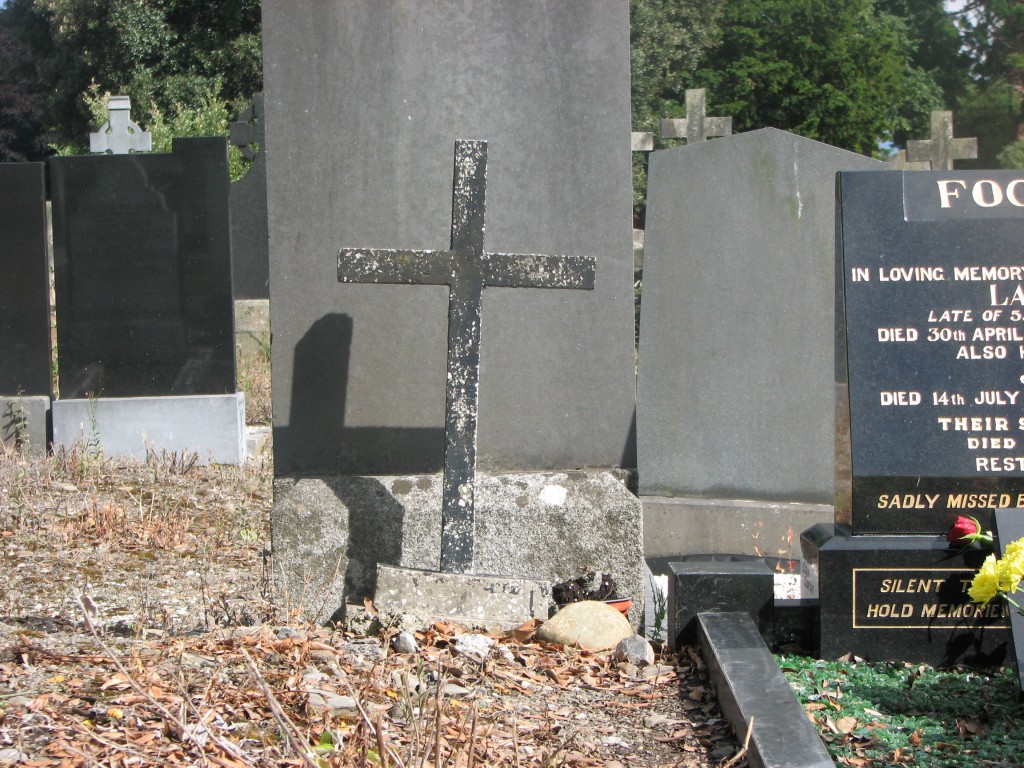 Link to John/Pauline Clowry's gravestone on Google Maps

Gravestone of John Clowry, Michael & Roseanna Clowry
Originally, it was thought that the grave below contains my great-grandfather and great-grandmother and their son Peter Clowry. In the last few years, my father Laurence Clowry, purchased and lay a new headstone and had the names engraved. In 2010, my father and I went to the new Glasnevin Interpretative center in search for more Clowry graves. To our surprise, there were 8 people buried in the grave including my great-great-grandfather John Clowry and a number of children who died very young. We will get around to changing the headstone at some stage!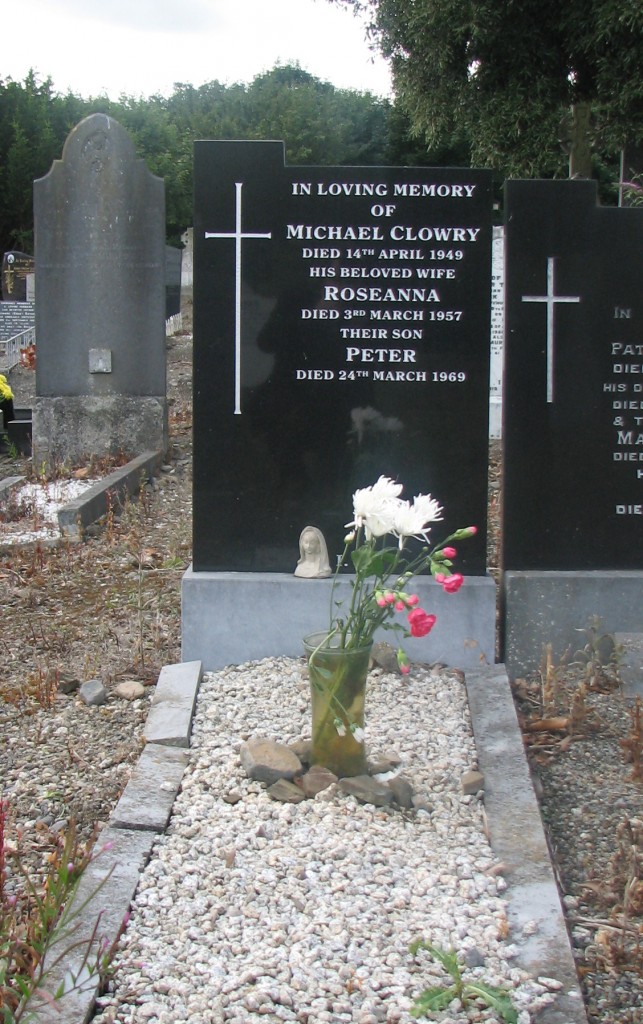 This grave reference is ZK264 It contains 8 people. It is located at the back of John/Pauline's grave(see previous photo) and faces the opposite way. Clowry Peter Date of death 24 Mar 1969 Age 54, Clowry Rosanna Date of death 03 Mar 1957 Age 70, Clowry Michael Date of death 14 Apr 1949 Age 68, Clowry Annie Date of death 05 Sep 1924 Age .3, CLOWRY JOSEPH Date of death 29 Oct 1919 Age 1, ClowryMary Date of death 05 Nov 1915 Age 1, Clowry Alicia Date of death 29 Nov 1914 Age 5, Clowry John Date of death 18 Aug 1903 Age 57.
Link to John, Michael/Rosanna's Clowrys grave on Google Maps

Gravestone for Christopher Clowry
This is the location of my granduncle – Christopher Clowry.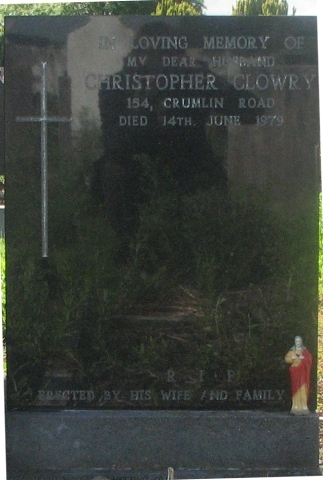 This grave is located in the new area of Glasnevin Cemetery located across the street from the main entrance. This grave reference point is SE83.5 To find it come into the entrance and turn right and then take the first left. Walk up this path and keep looking to the left. You will see a black and gold heart shaped grave marked as THOMAS MULREADY. At this point, walk in behind this grave and towards a very large white cross marked KERR. Christopher Clowrys cross is facing the opposite direction in this area. It is a blackish/grey marble grave.
Link to Christopher Clowry's Grave on Google Maps.

Daniel J Clowry & Family Gravestone
This grave relates to another Dublin Clowry family, whose descendants I have met on a number of occasions.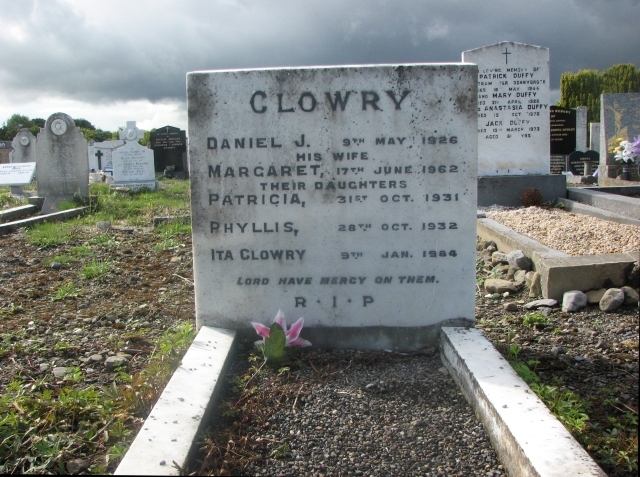 It's reference point is AD49 St Pauls, which is located across the road from the main Cemetery. When you go into the main St Pauls entrance take the second left, the next right and the grave is located on the right. It is located about 5 feet away from the path behind a large cross marked with "MCMANUS". Clowry. Daniel J 9th May 1926, Margaret, 17th June 1962, their daughters Patricia 31st October 1931, Phyllis, 28th October 1932 and Ita Clowry 9th Jan 1986.
Link to Daniel J Clowry & Family Grave in Glasnevin Cemetery Ireland

Grave of Alicia Clowry and two daughters Alicia and Mary Clowry.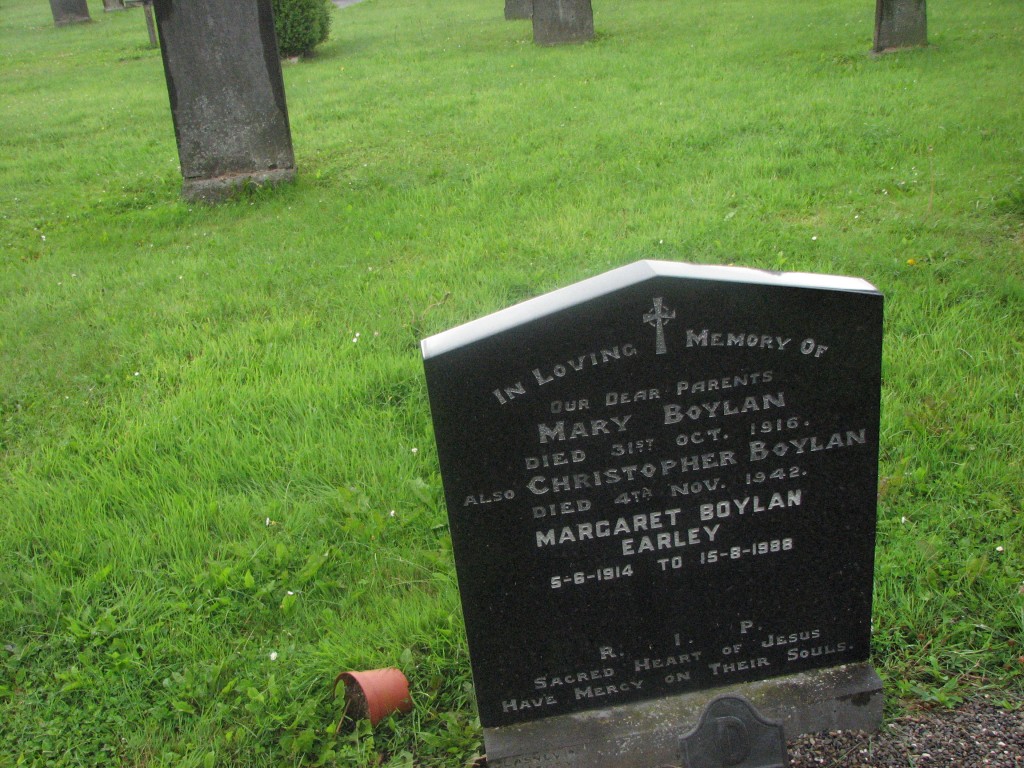 This is the grave of Alicia Clowry(nee Byrne) and her daughters Mary and Alicia Clowry. Alicia Clowry is my great-great-grandmother. Although it is not confirmed, it is understood that there is no gravestone here.This grave reference is YF 32.5 Garden. It is near a new looking dark grave marked "Margaret Boylan Earley" shown in the photo above.
Alicia Clowry, 26 Golden Lane,Dublin, Death of Death 12 Jan 1890, Age 3 Weeks.
Alicia Clowry, 7 Cuffe Street,Dublin, Death of Death 22 Mar 1903, Age 52.
Mary Clowry, 7 Cuffe Street,Dublin, Death of Death 14 Sep 1900, Age 16.
Original entries into Graveyard books



Link to Alicia Clowry's & daughters Gravesite on Google Maps

Grave of Maureen Penston (nee Clowry)
The picture below shows the gravestone of my grandaunt –Maureen Penston, her husband Sean and their grandson John Williams.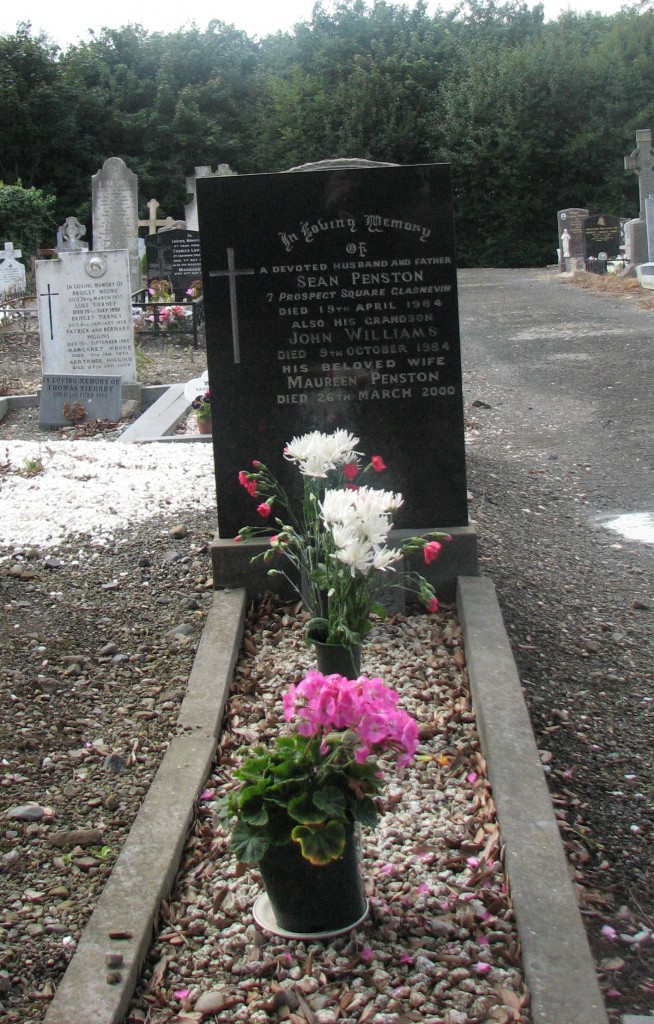 Link to Maureen Penston(nee Clowry) grave on Google Maps
Glasnevin Cemetery Documents

You can download the Glasnevin Clowry Graves Search Results to save you some time and expense.
Mount Jerome Cemetery
My grandfather and grandmother Laurence & Elizabeth Clowry are buried in Mount Jerome Cemetery, Harolds Cross, Dublin, Ireland. There is an office in the graveyard(see 1 on map below) that the cemetery employees will search for graves for you. They provided me with the printout below. Unfortunately there is no other way to search Mount Jerome records yet, so unless you know the person/year that you are looking for, you will be out of luck.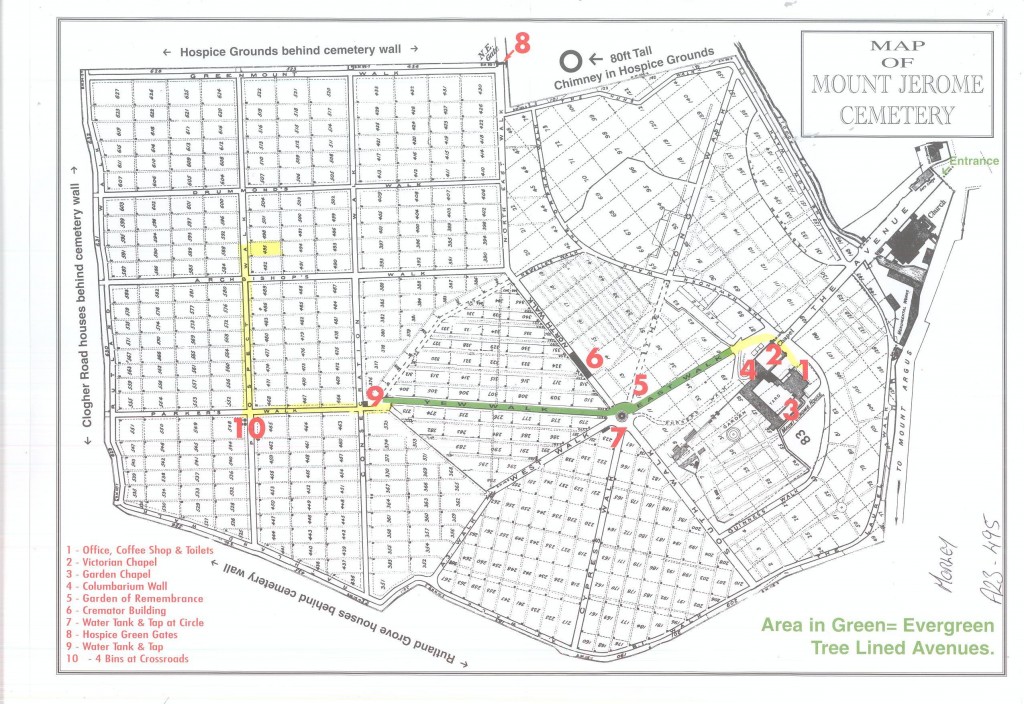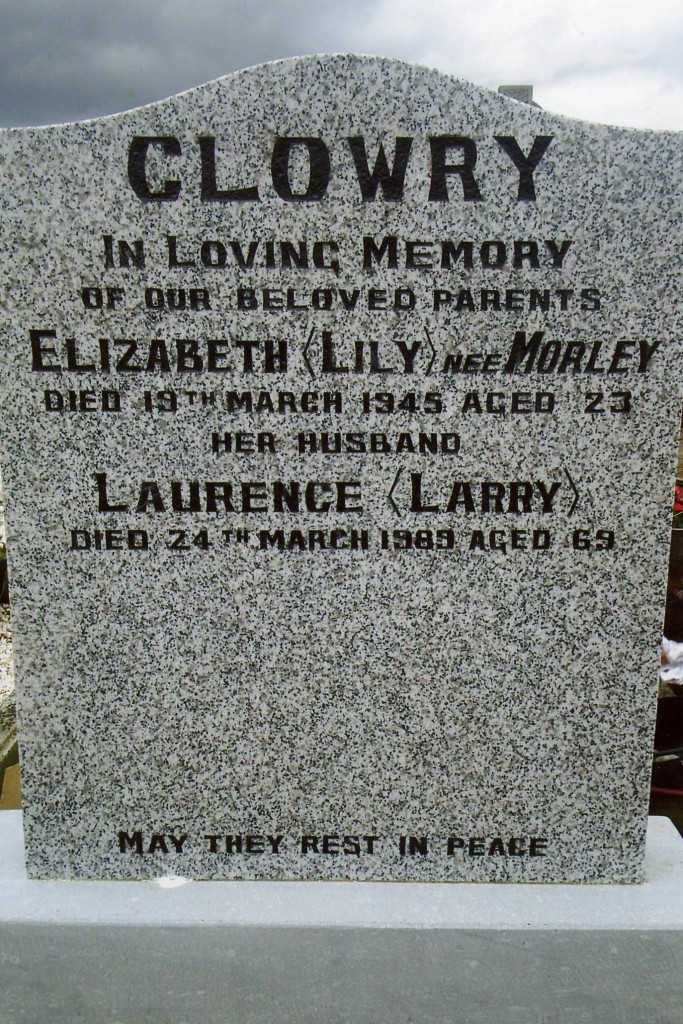 "In Loving memory of our beloved parents, Elizabeth (Lily) nee Morley, died 18th March 1945 Aged 23. Her husband Laurence (Larry) died 24th March 1989 aged 69. May they rest in peace".
If you know the date of death of a relative buried in Mount Jerome, you can go into the library in Pearse Street, Dublin to search the Mount Jerome Cemetery records. Below is an example of my grandmothers Elizabeth Clowry's graveyard entry.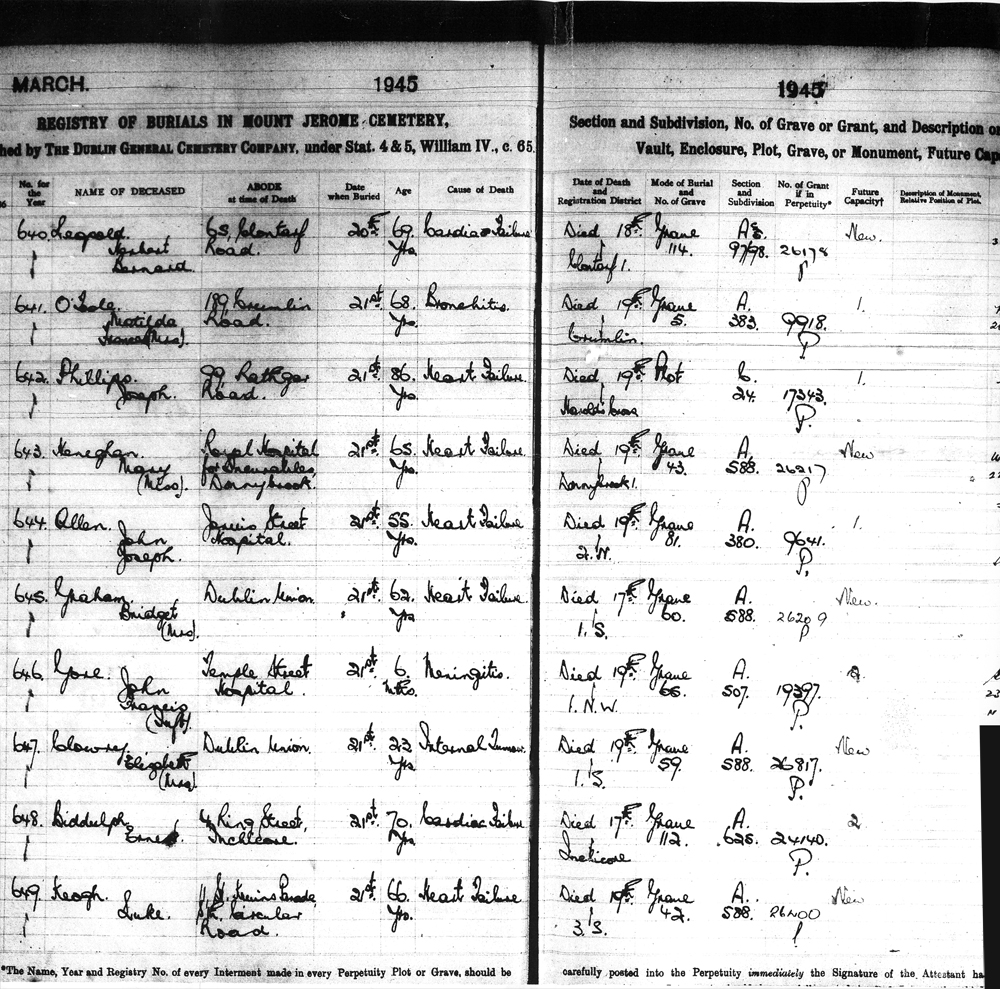 That's all the information that I can provide on Dublin Clowry graves at the moment. Hopefully, I will be able to track some more graves down the next time I am writing about the Clowry graves. I have some pictures of other graves throughout Ireland and hope to add them to the website soon.
As usual, if you have any comments, please add them.