Clowry Letter 1908
(Please note: Many of the links on this page, link to www.geni.com. You will need to setup a free geni.com account to view the links and the profiles associated with them. If you are having any difficulties with any of the links, please leave a comment below. )
One of the most interesting items that I have come across in my research was a transcription of two letters written about 1908. John Clowry from Castledermot, Kildare had received the transcription from an American visitor (Cathy Bordenaro) in the 1990's.  John Clowry had kindly passed it on to me. I uploaded the letter to the online Carlow Rootsweb mailing list to see if anyone could offer any information. Veronica(Ronnie) Shorten offered me detailed information about the family in the letter. Roger Nowlan kindly researched and wrote an article about the letter for a local Carlow newspaper.
Background to the Letter
The letter had been passed to Cathy Bordenaro USA from her ancestors. Cathy's great great great grandmother was Brigit Kehoe (or Kehough) Clowry, wife of John Clowry and daughter-in-law of Jeremiah (Darby) and Mary Crowe Clowry/Anne[????]. John was born 1786 and died 1847 and is buried in Newton Churchyard.  He married Brigit Kehoe in 1821 and they lived on Ballystarna farm.  She left for America 2 years after he died in 1849 and died here in 1867.
Thomas, the author of the letter and Robert were brothers.  Robert was president of the Western Union Telegraph in the Civil War so he was here in the US and he had no children.  Thomas and Robert's father was John, the one who got the family out of the house in the fire.  I believe Thomas was in the USA when he wrote the letter.
The Letter
You can download the two original Clowry letters here and also you can download Roger's explanation article. The letters are also printed below, if you have the patience to read them on-screen.
Letter 1
Typed From Copy of original letter – note at top indicates it was written in April 1908 (Letter from Thomas Clowry)
In compliance with your request that I tell you something about our family I will write and tell you what I know about them. First about the Clowrys.
Early in the 17th century our paternal ancestor, whose name was McClowry came down to Carlow County from the North of Ireland.
The McClowrys originally came across the English Channel (Irish Sea) from Scotland. He and his family were part of the thousands of the inhabitants of that Section who were driven out by the Orangemen and compelled to seek a home in some other parts.
They came down to Carlow County, settled on a farm called Kilrush (commonly called Crush) and then raised a family of sons and daughters. One of the sons was named Jeremiah (the neighbors called him Darby). When (he) grew to manhood he married a wife whose name was Mary Crowe and who came from the adjoining county Wexford. They built up, occupied and cultivated a farm of about 200 acres of fine, fertile land in the Township of Kilkea, immediately adjoining the Kilrush farm.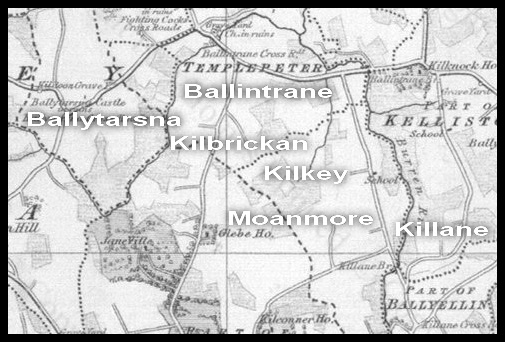 They were very successful and prosperous and had eight children, three sons and five daughters. Mary, Elizabeth, Bridget, Ann and another whose name I do not remember. The sons were John, William, and Patrick.
The Irish rebellion occurred in the year 1798 but in that unwise uprising grandfather or any of his relations took no part. Immediately after the rebellion was crushed out and all was supposed to be quiet, the Orangemen formed them­selves into bands of ten or twelve more or less all over the country—went around robbing and murdering the farmers they suspected had money. A band of them came to grandfather's house one night, broke in the door to rob and murder him. When they came in grandmother called them by name (for she knew every one of them, the Watson's, the Newton's, the Griffins, the Leckie's and others, they all lived 1n the same neighborhood,) said, "Do not murder my husband and I will give you all the money we have in the house."
They had a thousand pounds in the house at that time, which they had saved to pay a year's rent for their farm to Sir Thomas Butler their landlord.
"Give us the money," they cried. She did so. She gave them the box that contained the money, and as soon as they got it, they leveled their muskets at grandfather. He picked up the youngest child, Ann, a few months old, held her on his arm and before him to protect himself from the guns, thinking they would not hurt the child. One of them struck him on the arm with a heavy sword and broke it, and the child fell to the floor. Then they fired a dozen bullets through his body and when he fell they stabbed him with their bayonets. Then they went out and fastened the door on the outside and set fire to the house.
Father, the oldest one of the family and then about 14 years old, with the aid of a cowboy, who lay hid all the time in a corner of the room, drew a table up to the back wall of the house, under a small window, broke out the window and, one inside and the other outside, lifted grandfather's dead body out through it, and after him, the mother and all the children. The fire spread and burned everything in sight, all the grain and hay stacked up in the farm yard and all the farm houses. Grandmother had at the time a dairy with a dozen or more large tubs of cream in it ready to be churned. The fire burned the tubs down until the cream flowed over and quenched it. The neighbors in the country round about seeing the fire at Darby Clowry's came in hundreds to help. They released the horses, cows, and all the stock from their houses and drove them out on the farm in time to save them.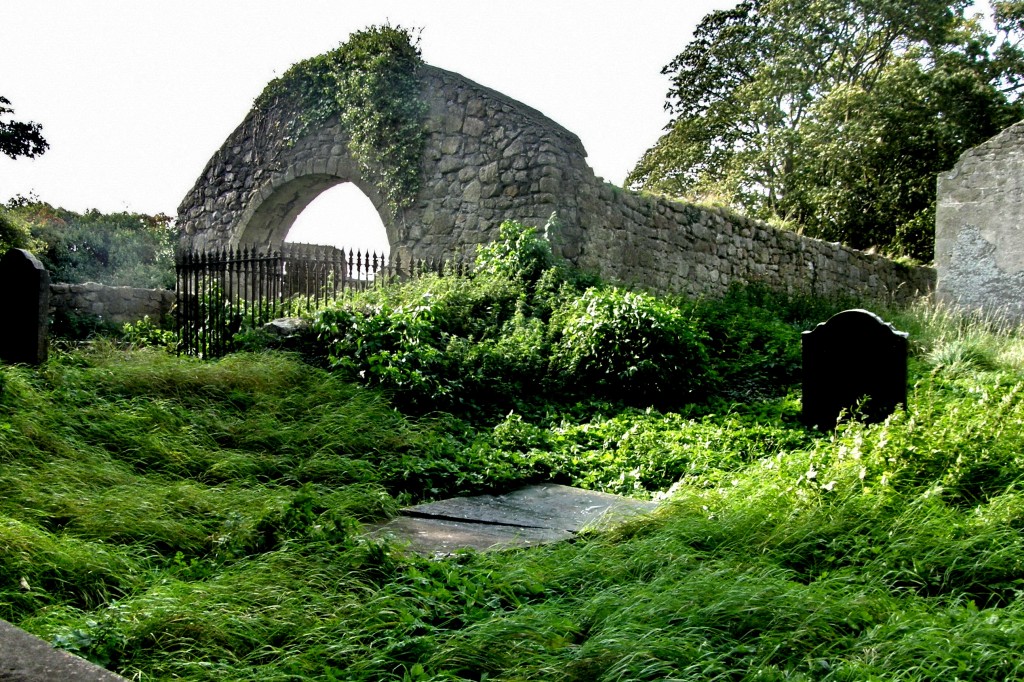 After burying the dead body of her husband, and recovering from the terrible ordeal she had passed through, grandmother went to her landlord, Sir Thomas Butler, and told him the whole story of what had happened. He" was at the same time Chief Magistrate for Carlow, and it was his duty upon information to issue warrants for the arrest of all murders, robbers, and criminals of every class and order the Sheriff to arrest them and bring them before him for trial. He swore to her that if she gave him the names of her husband's murderers, he would have every one of them arrested and hung. She did so, for she knew everyone of them, and when they had entered the house she had called them by their names. But not one was ever arrested or molested. When she returned home she went to work to rebuild the houses and repair the damages. She must have been a woman of wonderful pluck and energy for in a few years she rebuilt the dwelling and all the farm houses – she kept her children well in hand, and made them do their full share in the work of rebuilding. When father grew to manhood and wanted to marry she rented the Ballytarsna farm for him and built the dwelling and all the houses on it.
He and mother married in the year 1821. William was born in September 1822, and was named after his Uncle Father William Clowry. Jeremiah was born a year and a half later and was named after his grandfather Clowry. Next came Mary Ann. Mother said she was a lovely child, and would cry whenever she spoke of her. She died when she was seven years old from "water on the brain". Next came Eliza, a year and a half younger than Mary Ann. She was seventy-five years old when she died. Next came Patt – two years younger than Eliza but who died before her. She was named after her Aunt Elizabeth, afterwards Mrs. Kearney, and he after his Uncle Patt of Ballintrane. I came next. I was born April 3, 1833 and was 75 years old on the 3rd of this month, the oldest of the family so far.
Next came John a year and a half younger than me, and always father's pet, after whom he was named. You made your appearance next, two years younger than John, and then James, a year and a half younger than you. And now I will tell you why we were so named. Father had three cousins in the Kilrush family. James, Robert and Thomas. They lived on an adjoining farm, were companions of his youth, and he entertained a great friendship for them. He never liked any of the men of the Kehoe family and would not allow any of his children to be named after them. When I made my appearance Mother wanted to name me Timothy after her brother -father said,, "No, call him Thomas", and Thomas it was. John was called after father and was always his favorite boy. When you opened your eyes for the first time Mother wanted to call you Miles after her father. Father said, "No, call him Robert." And Robert it was. When James came along father was asked what the baby would be named. He said James, and James it was. Uncle Patt of Ballintrane called one of his sons James after the same Kilrush cousin.  I remember these young men very well. They frequently came to Ballytarsna to visit us, and father used to go to Kilrush to visit them. When Thomas came to our house he would take me on his lap and nurse me; I suppose because I was named after him. They were all fine, handsome young men and father had the greatest regard for them.
William left Ireland a year before we did, and came to Chicago in 1848. He was ordained to the priesthood in the same year by Bishop Vandevelde, and appointed by him pastor of the Holy Name parish in North Chicago. We left Ireland in September, 1949, went to Liverpool, and there took passage on the merchant ship "L. Z." so called after her first mate, the son of a Boston merchant, and her owner. On her return trip to Liverpool she was lost at sea.
We came up the Hudson River in a boat to Albany, thence by the N.Y.C.R.R., then a rickety concern, to Buffalo. It took us more than two days to get there. Thence by boat to Detroit, and thence by the M.C.R.R., still worse then the first named, to New Buffalo, at the foot of Lake Michigan where we had to remain about two days waiting for a boat to come from Chicago to take us across. We finally landed in Chicago in the latter part of October of that year. Mother had $500.00 in gold (a large sum for anyone to have at that time in Chicago).
William Ogden heard of us and that Mother had the money. He went to William at the college and told him that he owned a 25 acre plot of land which was located on Clybourn Avenue, a short distance north of Division Street, and which he would sell to Mother for $500. She need not pay all cash but keep enough to buy cows and horses, cultivate the land and sell the milk in Chicago. It had a good dwelling house on it where the family could live. It is worth a million dollars or more today, but there were some wise acres around the college at the time, the Murphy's and others who pretended to know all about the country. They were out here only a year or two before us but pretended to know more than William B. Ogden or anybody else. They told William to send his mother and the rest of us down to the country, get a farm and make as much money on eggs and butter alone as would support the family. She went to the Bluff and remained there until everyone was nearly dead from fever and ague. Then Jer wanted to get married; she left him the farm and some cows and horses, and moved about three miles northward to the Shield's farm where she was living when you went to Joliet to learn telegraphy. A storm of hailstones came across that section one summer, tore the grain crops up by the roots, mowed down the hay, killed all the chickens, broke the windows, and destroyed everything in its path. Then she moved into Chicago where she lived the rest of her life. She died in 1867. She was 69 years old at the time of her death, universally beloved by all the people and had the largest funeral that ever was held in the Jesuit parish or that section of the city before or since.
William, in company with others, left Chicago in 1854 and went to New York. After serving as curate for some years, he was appointed by Archbishop Hughes pastor of St. Gabriel's parish. When he went there, he had to commence at the beginning and build up everything from the frame school house to the large church, parochial residence, schools, convents and other buildings that he left after him. When he died in 1884 in the month of June, he left St. Gabriel's one of the best parishes in that city. He was buried in a sarcophagus between the residence and the Church. He in company with others went to Ireland in 1876. He went to Newton church yard where father was buried and found the grave and the tombstone that was erected on pedestals over it in a dilapidated condition. He left money with the pastor of the parish to have the lettering recut, the tomb replaced and the grave repaired. And here while narrating this part of the history I will state father died in 1847, was 61 years old at the time of his death and was buried in Newton churchyard. William died in 1884, and was 64 years old at the time of his death. Jer died about three years before, and was 61 years old; Patrick, Eliza, and John died in quick succession afterwards.
And now I will tell you about the Clowry branch of the family. When William, the second son, grew up his mother sent him to Carlow college to be educated where in due time he was ordained to the priesthood. After serving as curate in some of the parishes of the diocese he was appointed pastor of a church in Tullow, a town second to Carlow in size and importance. Here he remained for many years, when it came to pass that a society of British Tories organized at London for the purpose of proselytizing the Irish.
They brought out learned professors from Oxford, Harvard, and other colleges, who were to challenge the Irish clergy to public debate on religion. And with these another crowd who were to distribute soup, oatmeal and other bread stuffs amongst the people, but to be given only to those who would be "converted" and go to their church. These were called "Soupers". In due time they came to Carlow, professors, Soupers, and all and challenged Bishop Doyle to send out his priests to meet them in public debate. He sent out Father William Clowry and another priest named Father Kinsella (who was afterwards Bishop of Kilkenny). A stand was erected on the public square where the debate was carried on. It lasted two weeks, and terminated in driving the professors, Soupers and the whole gang out of Carlow.
Some years afterwards it became a custom among the clergy of Dublin to send out through the country for priests to go there to preach the Lenten sermons. He had to preach twice a week (Wednesdays and Fridays) during the seven weeks of Lent. A call came to Bishop Boyle of Carlow, from one of the churches, to send one of his priests there to preach the Lenten sermons. He notified Father Clowry to prepare for the occasion and go. He prepared a series of sermons and went. After preaching a few weeks he found out that the sermons he had prepared were not suited to the congregation or the occasion, and for that reason had to commence and write out a new series. He did so and before the Lenten season was over he was successful to the fullest extent of his wishes. But the effort killed him. The tension and stress on his mind was too much for him. He came to Tullow and died a few weeks afterwards. When he became pastor of the church in Tullow he took his mother to live with him and with her this was "the last straw". She came immediately to Ballytarsna and lived with father and mother during the rest of her life. She never liked Uncle Patt's wife of Ballintrane and would not live there, and the girls on the Kilkea old homestead did not want her. Father was her next favorite after the priest and mother would do everything to humor her. And so she lived and died with them. It was from her that Mother learned the history of the Clowry family from its beginning. She bore up courageously after the murder of her husband, but when the priest died so suddenly, it was "the last straw". Mother said that she would sit on a chair for hours, and patting her feet up and down on the floor, would cry for her dear child William. She lived but a few years afterwards, but before hen death became quite feeble-minded and childish. She was buried in Kellistown churchyard, the burying place of the older members of the Clowry family and which is located about two miles southwest of Tullow.
Mary, the oldest daughter, was married to Burns of Kilkenny. They had a houseful of children were always poor and I do not know anything about them. The next (whose name I do not remember) was married to Nolan of Nockindrain which is located on the northern valley of Leinster Mountain. She had three daughters, Nolan died, and then she married Nicholas Sheridan, a very good man, and they were quite successful. Mary Anne Nolan, the oldest girl, afterwards married Michael McAssey (Mackasey) of Kilcool which is located about half way between Ballytarsna and Carlow. They had a large family. McAssey (Mackasey) afterwards died and the wife, who was still living on the farm with her grown-up children is very prosperous and wealthy.
Elizabeth, the next girl of the family was afterwards married to Patrick Kearney of Ballylochen. They had a good farm and were rich and independent. Their dwelling and all their farm houses were the best in that section of the country.
They had two children Patrick and Anne. Kearney died while the children were young, and then the whole duty of the farm and family devolved on the mother, but she was a good business woman and carried on the farm with great success. When Anne, the daughter grew up she went into the Carlow convent. She was always delicate and died soon after she went in the convent. Her mother took her death so much to heart that she died soon afterwards.
Then Patrick left the Ballylochin farm – rented a farm in Ballymoon, about 200 acres, better land than the old farm of Ballylochin. It is located across the road from the Ballywilliamroe farm where mother was born and of which I will tell you hereafter. After he came there he married John Cummings' daughter of Ballybar, who was owner of the famous race horse bearing that name and was very wealthy. He had some of the best and most successful racing horses in that section.
Patrick got a bag full of money with his wife and some of the best of his father-in-law's horses. He had a large family, and two of his sons entered Carlow College to be educated. They were in due time ordained priests. But Bishop Foley had no room for them in Carlow diocese. They went with Archbishop Connolly to Australia where they are still living. The father died years ago, and at the last accounts, the mother was still living in Ballymoon.
Bridget, the next, was married to James Praudy of Wexford. They lived on the old Kilkea farm. Praudy had money when they married and were always rich and independent. They had two daughters who afterwards married off in that section of the country. In the course of time Praudy and the wife died and the old homestead became vacant.
In the meantime, Anne, the youngest of the family, married McDonald a wealthy farmer of Dublin county. Their'farm is located near Maynooth College and when William was in Maynooth College he often visited there. They were very wealthy.
And next about Uncle Patt Clowry. His mother rented for him Ballintrane farm, and built the dwelling and farm houses on it. The dwelling is a large two story stone mansion and the farm houses are the best in that section. He married a Waterford lady named Casey. Her parents were wealthy and she brought plenty of money with her to Ballintrane. They had four sons and two daughters. The sons were Jeremiah, William, James and Patrick; the daughters Anne and Maria.
Uncle Patt had a life estate on his farm and when he died the lease elapsed. Then the mother and children left Ballintrane and took a farm called Kilbricken less about a mile south of the Ballintrane farm. The mother died there. The two oldest sons, Jeremiah and William never married and lived to be old men. Anne and Maria, the two girls, married husbands who had their own farms, Patrick the youngest was sent to Carlow College where he studied, and in due time was ordained to the priesthood. He served as curate in the various parishes of the diocese for many years.
About that time it happened that the British government enacted a law by which Catholic Chaplains could be appointed to all the jails and other prisons, almshouses and other government institutions all over Ireland, and attached a good salary to the office. Father Patt who was a favorite of Bishop Foley, received the appointment for Carlow, and went to live with the Bishop in Briganza. All he had to do was say Mass at the jail every day, hear confessions and attend the sick calls there and at the other government institutions, whenever he was called upon. Occasionally sick calls came in from the country, when he would be sent out to attend them. When he was appointed to this office and to live at Briganza his cousin, Patrick Kearney, of Ballymoon gave him a saddle horse to ride. He was of the same stock of racers that Patrick received from his father-in-law, John Cummings of Ballybar; but Father Patt was an excellent horseman and it was just what he wanted. A very urgent sick call came in from the country one night and Father Patt was sent out to attend it. The night was dark, and the road was shaded with trees on either side, and he had to cross a bridge that was built over a river that ran across his path. He attended the sick call all right but when returning home at the bridge, the horse frightened at something, shied off, jumped to one side and threw him. The horse came running to his stable full speed, and when the hostler saw him he gave the alarm. A searching party was sent out, and they found Father Patt's dead body at the bridge. He had fallen upon his head, broken his skull and died instantly. James was now the only one of the boys that was left. After the death of the Praudy family and when the Kilkea farm became vacant, he left Kilbricken and went there. It is better land and more of it.
He then married a wife who lived with him five or six years and then died. Soon after her death he married a young damsel of the same neighborhood. They had one child, a daughter. And this child now three or four years old is the only descendent of the Clowry family living in Ireland and bearing the same name.
In the latter part of the seventeenth century, Miles Kehoe cultivated a large farm located about two miles southwest of Baltytarsna and called Ballywilliamroe. He married a wife named Ellen Doyle; her father and family lived in the township of Aclaar which is located on the extreme part of Carlow county. At one time mother went to Tramore, a bathing place on the shore of Waterford, for her health. She took me with her to drive the horse and car in which she rode as far as the town of Graigue, and which like Albany in New York, located at the head of the Hudson River, is located at the head of the Ross River and on which she went on a steamer to the city of Wexford. When she came near to Graigue and on the suburbs she pointed to a large two story stone mansion, about two hundred yards from the road on which we were traveling, and said that is Aclaar house, where mother was born. At that time and for generations before it the Doyles of Aclaar were very wealthy. Their dwelling and the farm houses around it were the best in that part of the country.
He had a large orchard, about three acres of all kinds of fruit trees, and was very prosperous. He was a genius for invention and if he lived in the United States at our time where he could get patents for his inventions, would have been a millionaire. Among other things, I remember a dovecote that he invented and which attracted all the pigeons in the country round about, and at times would be swarming with them. He had seventeen or eighteen cows on his farm, and invented a device for churning the cream, that had nothing like it in the country. It consisted of a large wheel about seven feet in diameter, and a flange around about two and one half feet wide. This was supported by spokes coming out on either side from the hub that was attached to the wall by an axle.  A long rod attached to the wheel that was moved by a pivot. The other end of this rod was attached to the churn-dash by a small wheel or other pivot. The churn containing the cream was set out on the floor. A large dog, that he had trained to the work, was placed on the inside of the flange, and commenced to walk forward, and the wheel commenced to turn under his feet, and the faster he walked so much the faster the wheel turned, that moved the rod, that moved the churn-dash up and down, or round about (I do not know which) in the churn; and by contrivance he made a dog churn all the milk of his dairy for years.
They had three sons, John, Arthur, and Timothy, and three daughters, Brigit, Catherine and Ellen. John and Timothy never married and remained on the farm all their lifetime. Arthur married a wife and had a large family. They came to Chicago about the same time we did; and some of them are still living here.
Catherine, the next daughter after mother, married a husband named Doyle, who had some employment in Liverpool and then went there to live. They had one child Kate, who lived to be eighteen or nineteen years old and then died.  In the meantime Doyle died and Catherine married another husband, Captain Forrestal, so called because he was Captain of the Liverpool police. They had no children. Shortly after their marriage, Ellen, the youngest of the Kehoe family, went to Liverpool to visit Mrs. Forrestal. She was the handsomest young woman in the country.  In size, shape, form and face she was perfect. It happened at that time that Captain Wallace, a young man and commander of a British war ship came into port of Liverpool with his ship. He was a friend of Captain Forrestal's and went to visit him. He met Ellen there and it was love at first sight. They were married and had three children, Francis, Miles and Ellen. When the boys grew up they went to sea with their father and I have never heard anything about them. When Ellen grew up she married a husband, another Doyle. They had two children, and in time Doyle died and she died, and last of all Captain Forrestal died. Then there was none of the family left in Liverpool except Mrs. Forrestal and Ellen's two children. She wrote to William telling him her condition and he wrote back and told her to come to New York and bring the children with her. She did so and after they came the two girls were sent to the Sisters of Charity Convent at Forrestal castle on the Hudson, and in time were professed as nuns and died afterwards. Old lady Forrestal lived with William for many years as his housekeeper and finally took sick. She was sent to the Sisters of Mercy Hospital where she died, and with the exception of the two Wallace boys, this was the end of the Kate and Ellen branch of the Kehoe family.
I would like to know if these two, Francis and Miles, are still living and where they are.
The foregoing is substantially all that I know about the Clowry and Kehoe families.  I hope you will find it interesting enough to read it over at your leisure.
Thomas Clowry
Letter 2
Typed from Letter from Nellie K. Byrne. Copied from original on Letterhead: San Francisco College for Women Lone Mountain San Francisco, California, February 1, 1942
Background: Cathy's mother is Suzanne Sweeney Bordenaro, grandmother was Rossita Byrne Sweeney, great grandmother was Nellie Kehoe Byrne, great great grandmother was Eliza Kehoe, great great great grandmother was Brigit Kehoe Clowry wife of John Clowry and daughter-in-law of Jeremiah and Mary Crowe Clowry.
My dear Helen,
Thank you for your nice letter and Mother Bryson's jubilee card. I do not think Mother Bryson was at Taylor St.  in my time, I am much older, eighty three. I was a classmate of Mrs. Spearman. I too enjoyed "Memories", most of it was familiar.
Your mother wrote and sent me your letter asking for bits of family history. All of my knowledge would be of the Clowrys.  I knew your grandmother personally, of course; knew her family name  was Nolan.  I think Sister Mary Florence may know of that branch – she went to New York City years ago to visit Mrs. O'Meara, your grandmother's oldest sister and may have learned some family history.
Your grandfather Clowry was my uncle, my mother was his only sister, there were seven brothers.  He was Jeremiah Clowry, the second son of John and Bridget Clowry of Ballatarsna, County Carlow, Ireland.
John Clowry, your great-grandfather, was the oldest son of Jeremiah and Anne Clowry(?).    This Jeremiah Clowry would be your great-great grandfather and my mother always felt that he (her grandfather) was a martyr to his devotion to religion.  He was a wealthy man holding much land, an estate where he lived and others run by "stewards".     It was during the time of religious persecution in Ireland.    He was extremely charitable and religious; was accused of harboring priests (a political offense). He had no priests at his own home, but there were several with the "stewards". His "home was attacked, he was murdered and his house burned by a band of "black-feet". Mother always thought of him as having given his life to the cause of religion. I hope he prays for us. His son(grandson?) Patrick was a priest in Dublin and his grandson, your grandfather's brother, was Reverend William Clowry of New York City. Both these priests although of different generations were educated at Maynooth College, the most famous in Ireland.
This is a bit of unwritten but authentic Irish history.  These troubled days in Ireland explain the deep dislike of Irish people for the English, witness De Valera's unwillingness to co-operate with the English in the present crisis – too bad. England has made some amends, but the grief and injustice of the past are not forgotten. Of course, it is too far away from us to leave any impression.
Back to your family history. Your grandfather and his family came to America in 1848. After the death of her husband, your great-grandmother Clowry sold her holdings in Ireland and came to America, to Chicago. Father William Clowry, her oldest son, your grandfather's brother, was already here. He was Professor of Theology and Vice-President of Old College of St. Mary's of the Lake. He later went to New York.
Your grandfather was a very successful  business man,  was an alderman of the City Council  and Chairman of the Finance Committee in Chicago –  quite an honor in those days. I remember him well,  he was a big  fine-looking man, over six feet like all the Clowrys.
Now I've rambled on, forgive the penmanship, like all octogenarians' it varies but might be no better tomorrow.
I do wish your Mother would come to Chicago, we would both enjoy a visit. I love her gay, optimistic nature.
Elizabeth and Catty send love and greetings. I know Catty would delight in tripping out to see you, but I'm afraid she must remain stationary in these times.
Don't trouble answering this.  If I can help you in your family tree, just call on me.
My love, my dear Helen
signed: Nellie K. Byrne