Clowry Letter 1908 – Part 2
I have found a few more documents that related to the previous article Clowry Letter 1908. If you find any other information, please let me know. I have uploaded them below and please leave some comments if you have any.
Most of the documents below were provided by Veronica Shorten via Roger Nowlan. Roger has done some excellent work, collecting and distributing documents regarding the Daby Clwory 1798 event.
Anne Clowry pension due to Darby's death in 1798 paid by British Authorities.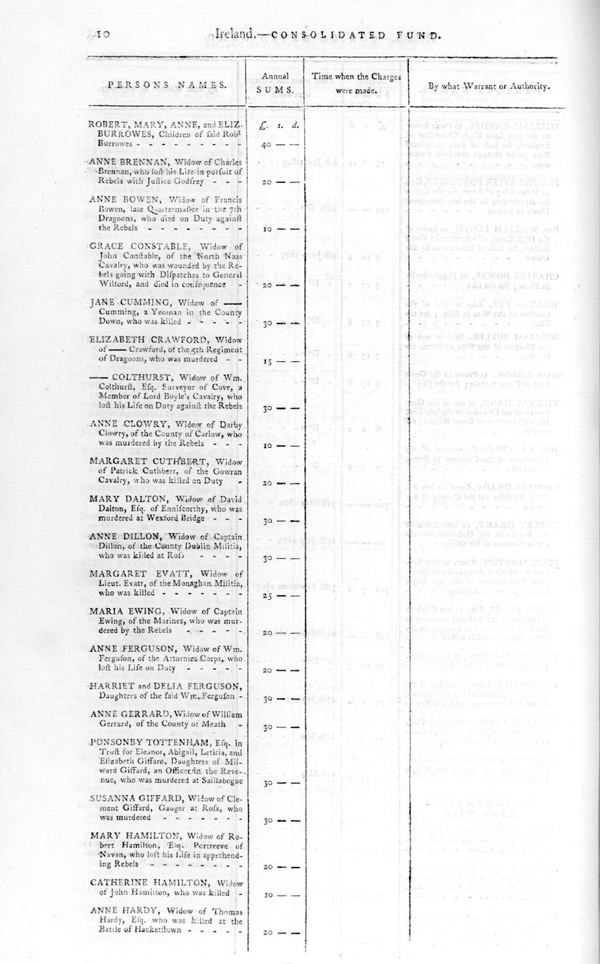 Download  high resolution version of Anne Clowry – Received £10 as her husband Darby was murdered by the Rebels in 1798 in PDF format
Extract from "Cullens in 94" book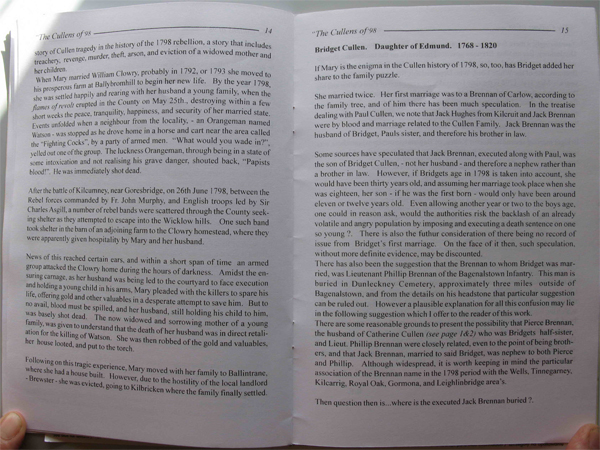 When Mary married William Clowry in 1792, or 1793 she moved to his prosperous farm at Ballybromhill to begin her new life. By the year 1798 she was settled happily and reading with her husband a young family, when the flames of revolt erupted in the County on May 25th, destroying within a few short weeks the peace, tranquility, happiness and security of her married state. Events unfolded when a neighbour from the locality, – an Orangeman named Watson – was stopped as he drove home in a horse and cart near the area called the "Fighting Cocks", by a party of armed men. "What would you wade in?". yelled out one of the group. The luckless Orangeman, through being in a state of some intoxication and not realising his grave danger, shouted back, "Papists blood!". He was immediately shot dead.
After the battle of Kilcumney, near Goresbridge, on 26th June 1798, between the Rebel forces commanded by Fr. John Murphy, and English troops led by Sir Charles Asgill, a number of rebel bands were scattered through the County seeking shelter as the attempted to escape into the Wicklow hills. One such band took shelter in the barn of the adjoining farm to the Clowry homestead, where they were apparently given hospitality by Mary and here husband.
News of this reached certain ears, and within a short span of time an armed group attacked the Clowry home during the hours of darkness. Admist the ensuring carnage, as her husband was being led to the courtyard to face execution and holding a young child in his arms. Mary pleaded with the killers to spare his life, offering gold and other valuables in a desperate attempt to save him. But to no avail, blood must be spilled and her husband, still holding his child to him was basely shot dead. The now widowed and sorrowing mother of a young family, was given to understand that the death of her husband was in direct retaliation for the killing of Watson. She was then robbed of the gold and valuables, her house looted, and put to the torch.
Following on this tragic experience, Mary moved with her family to Ballintrane where she had a house built. However, due to the hostility of the local landlord – Brewster – she was evicted, going to Kilbricken here the family finally settled.
There is some doubt whether this account is completely accurate as the previous letter mentioned Darby as the man that was killed and also other documents back this up. Mary Cullen married a Clowry but as it has turned out this was not Darby the man who was murdered .
According to Veronica Shorten – "Fr. Peter Swayne recorded in his book of Carlow in '98 that the lady who was married to the murdered Clowry man was a Cullen but he was not sure if this was the same person – he told me so himself and indeed the letter has cleared this matter.  He said that it was generally believed that Mrs Clowry was a Cullen and he thought that the name of the murdered man was Thomas.  We all thought for many years that the murder took place during the 1798 troubles and this was confusing because the grave in Kellistown recorded the date as 1800".
Download high resolution of Farmer Clowry Cullen document
Source: Roger Nowlan, scan from original document by Cullen family.